Congratulations to Zoe Henderson, an Account Manager for our Oracle recruitment business Talenterprize, who has won Star of the Quarter! We caught up with Zoe, who has worked in the IT recruitment business for years, on how she keeps that sparkle placing candidates in Oracle jobs.
Zoe, tell us an interesting fact about yourself?
Only one??? I am a cabaret performer and Roller Derby player who can say the alphabet backwards and eat fire…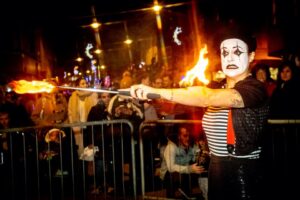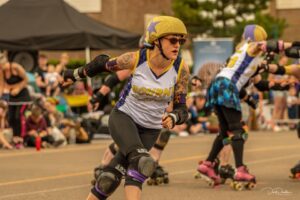 Talk us through a "typical" day as an Account Manager.
A typical day for me consists of getting to the office and making the coffee… that's important! We have a morning meeting to see where we are with our vacancies and decide our focus for the day. My first job will be checking and responding to my emails, screening candidate applications for jobs and giving feedback as to whether the applicants are suitable or not. I work on multiple Oracle roles at once, running searches for the right Oracle specialists and calling ones that look a good fit for the roles I am covering.
I focus on the Oracle accounts that I manage, have calls with my clients, get feedback on the job applications and interviews, and see if they have any additional Oracle projects for us to work on.
I am always speaking to Oracle specialists about roles, checking their suitability, updating their record and CV with their availability, salary expectations, and the sort of jobs that they are interested in. If they want to apply for the roles I am working on, I will get an up-to-date CV, other documentation and then send their CV to the client with a detailed synopsis of their Oracle skills and motivations.
How important is candidate/client experience to you, and what do you do to focus on this?
This is an essential part of my job! There are so many recruiters out there that don't provide a great service. I make a point of being better than that.
I will ALWAYS respond to a candidate if they have applied for a job, whether they are suitable or not, and give them feedback. I treat ALL my candidates as people and not just a CV and placement, ensuring they are kept up to date and given coaching and feedback on their job applications. I am open and honest with everyone and always try to do my best for the candidates and clients, keeping everyone informed of where we are in the process at all times.
What do you believe makes a great Recruiter?
Being organised, honest, and trustworthy. You need to be a great communicator and be able to build a rapport with clients and candidates.
You need a good memory and be able to think outside the box sometimes. You need a thick skin, as recruitment is a rollercoaster.
Tell us about collaborative working at Ellis Recruitment Group.
At Ellis Recruitment Group, we have different business areas that focus on various IT technologies (such as Oracle, Salesforce, SAP and Microsoft), contract and permanent jobs and have multiple geographical regions that they cover. We all share details of candidates looking for a new job or contract, as it may be a perfect fit for one of the other niche IT vacancies in the business. We are all encouraged to work together, to pass a lead or job to another company in the group if it fits their remit or IT technology area.
We all share each other's jobs posts on LinkedIn and promote the other specialist IT recruitment business to clients whenever we can.
How does it feel to be our Star of the Quarter?
I was absolutely amazed to be awarded 'Star of the Quarter' as I really didn't think I was doing anything special, just doing my job… but I have been told that I received the award because I am always helpful, go the extra mile and am always supportive. I was so pleased that my colleagues viewed me that way, and I am looking forward to drinking my champagne!
How are you planning to spend your reward?
Well, I thought I might spend it on something sensible, but that's really not me… so I am going to use it to add to my tattoo collection.
How would you describe the culture at Ellis Recruitment Group?
We are a fun bunch who enjoy working together. The management team have a huge amount of experience. Management pass on their specialist IT and recruitment knowledge to support and develop the existing team and bring new people to grow the business. Everyone is supportive and works hard to make the company the huge success that it is. We have survived the pandemic by working together. We are performing better now than we ever have done in the past. I would recommend working here to anyone interested in recruitment, whether you are a graduate, have recruiter experience or not.
Zoe Henderson
Responsable de compte
Talenterprize – Specialist Oracle permanent Recruitment Agency.